With an amazing back-to-school promotion on MSI Premium laptops
Now available in major retailers' stores and online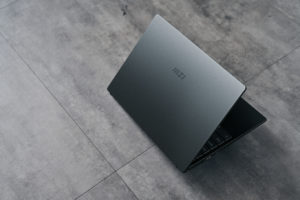 Saudi Arabia, 28 August 2022: MSI, a global leader in high-performance and innovative computing solutions, announced the launch of its laptop buying guide, allowing gamers, families, students, and professionals to purchase a wide range of the brand's new devices with an amazing back-to-school promotion on MSI Premium laptops.
Committed to creating a more inclusive digital world where more consumers have access to their own feature-rich, full-time, and classy laptops without being weighed down, the brand's digital buying guide has compiled the latest updates and new models of its popular Gaming and Business & Productivity series in its landing page such Titan GT77, Stealth GS66, Katana GF66, Katana GF63 Thin, and Modern 14 that can be found now in Kingdom of Saudi Arabia.
Mudit Nigam, GCC Marketing Manager said: "Whether you are a professional, social media user, content creator, student, or gamer; if you're looking to purchase a premium and award-winning laptop, this is the perfect time to purchase an MSI laptop with the best offers of our devices. We're present with the major retailer within the region and can be found at JARIR Bookstore in KSA."
Whether you're buying a new laptop for studying, working, or trying to find a high-end gaming laptop, check out the best laptop deals at our major retailer JARIR Bookstore in KSA or visit MSI at JARIR Bookstore page: https://bit.ly/3pujijf.
Introducing the best laptop deals and top picks from budget to extreme, Students, business users, HR employees, procurement officers, bloggers, and social media users are invited to explore a new chapter in life with MSI's Business and Productivity series which include the Modern 14 laptops. The users will realize a combination of performance, durability, portability, security, and battery life allowing them to manage their everyday work in an efficient way and accomplish their productivity needs.
Aimed at university students, engineering students, content creators, video editors, photographers, gamers, esports, and massively multiplayer online gamers who need more powerful and function-rich computing, MSI's Gaming series also showcases a revolutionary performance with an outstanding cooling design that keeps the system running smoothly during intense gaming sessions and fulfil every gaming enthusiasts' needs. To name a few, the buying guide's Gaming series comprise Stealth GS66, Katana GF66 – GF63 Thin, Titan GT77, and much more.
MSI's Laptop models you can find in the KSA buying guide:
 

model Name

Points Of Sales
1

Titan GT77

Unprecedented Thin Flagship w/ 23mm only
Desktop Grade Processor
CPU & GPU with OverBoost Technology
Support up to 4 x RAM + 4 x SSD slots
Cooler Boost TITAN with 4 Fans + 7 Pipes + 6 Exhausts
Cherry MX Mechanical Keyboard

2
Stealth GS66

Up to 12th Gen 14-Core Core i9 Intel CPU
Up to NVIDIA GeForce RTX 3080 Ti
Up to 64GB DDR5-4800 Dual Channel Memory
Lightning Fast ThunderboltTM 4
Up to 2TB PCIe Gen 4 Ultra-fast SSD
World's Leading WiFi 6E Wireless Networking

3
Katana GF66
Katana GF63 Thin

Up to Intel 12th gen ADL hybrid architecture processor
NIVDIA RTX 30 Series Graphic Card
Ergonomically-designed keyboard for gamers
A dedicated thermal solution Cooler Boost 5
Up to 64GB DDR5-4800 Dual Channel Memory

4
Modern14

Ultra-light 1.3kg, Ultra-slim 16.9-18.1mm

Thin bezel IPS-level panel
180° lay-flat and Flip-n-Share Design
Military-Grade Durability
Hi-Res Audio certification
Visit MSI pages:
MSI GAMING: https://ar.msi.com/
MSI Facebook: https://www.facebook.com/MSIMiddleEast
MSI Instagram: https://www.instagram.com/msigaming_middleeast/
MSI Twitter: https://twitter.com/MSIMiddleEast
Visit MSI at JARIR Bookstore page: https://bit.ly/3pujijf
For other regions in the GCC, please check the link here: https://ar.msi.com/service/wheretobuy#75,3.
ABOUT MSI
Micro-Star International Co., Ltd – MSI, is a Taiwanese multinational information technology corporation headquartered in New Taipei City, Taiwan.
As a world-leading gaming brand, MSI is the most trusted name in gaming and eSports. The determination to surpass past achievements has made MSI a 'True Gaming' brand throughout the industry!
Adding to its unanimous acclaim in the gaming field is MSI's reputation as a trailblazer and top brand in digital content creation. Built around MSI's decade-long pioneering tech in gaming, the Content Creation Series packs stunning color accuracy, long-lasting battery life, high fidelity audio and excellent performance into an ultra-portable, stylish chassis for photographers, graphic designers, 3D animators, video editors and other professionals around the world.
Amazingly portable and powerful, the MSI Business & Productivity Series also packs unprecedented performance, enterprise-grade security and outstanding battery life into its clean-cut, modern chassis to compliment the extraordinary tastes of business professionals.