Lifestyle
Renovate your bedroom and living room with brilliant ideas from Western Furniture on Eid Al Adha
UAE
If you are planning to renovate your bedroom or living room, this Eid Al Adha is the best time to decorate them with some festive signs. Western Furniture presents the Aston bed by Gamma and Botera armchair by Miniforms that will fill your heart with positive vibrations and spruce up your home with the serenity of the occasion.
Aston bed by Gamma
Manufactured in Italy by Gamma Arredamenti, the Aston Night bed is available in full, queen, king, and California king sizes. The bed features a solid wooden frame, metal legs in chrome or dark chrome finishes, as well as handmade Capitonne tufting. Upholstery options include a wide selection of genuine Italian leather as well as non-geometric fabrics.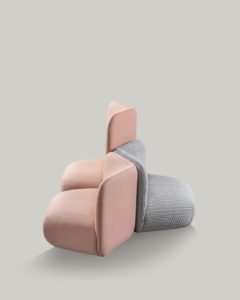 Botera Armchair by Miniforms
Botera is the armchair filled entirely in fabric. A modern and distinctive design, simple, ideal for comfortably enjoying a moment of relaxation. Its shape allows other similar elements to be placed next to it, forming customised modular compositions, but on its own it is exceptional. The colours and textures give beauty and personality to Botera, the great Made in Italy armchair by Miniforms.
You can also make someone happy this Eid by gifting them these marvelous pieces.
Newport sofa by Gamma:
The Newport sofa by Gamma Arredamenti simultaneously offers comfort and style. The three-seater design features adjustable headrests that raise by themselves by simply pushing on the top. Because of the boxy design, this sofa offers a geometric and classy style that stands out in your modern living room.
B726 Ernesto Sofa by Natuzzi Editions
Natuzzi Editions Ernesto is perfect for a large living area. Built-in rear cushions, the Ernesto B726 sofa features a simple mechanism where with one single movement it can change from an upright seat to a chaise lounge.
Dolly bed by Calligaris
Upholstered in fabric or leather, the Dolly bed fuses contemporary cool and an artisanal aesthetic which brings its sartorial stylishness to the fore. Available with three versions of the feet in wood and one in metal with the option of choosing the look and height from the ground that suits the customer best.
Portland bed by Calligaris
The item is available in three versions, the feet in wood and one in metal with the option of choosing the look and height from the ground that suits the customer best. When the headboard is opened, Portland offers a practical functional container unit for storage. The Portland bed is available with a fixed bed base or container unit.
About Western Furniture:
Founded in 1992 in Dubai, Western Furniture LLC is a well-established leading retailer of medium to high quality furniture in the region and is a member of the Arenco Group of Companies. Western Furniture offers a large selection of bedroom sets, living room furniture, dining room sets, occasional tables, sofa sets, entertainment centres, and decorative accessories. It showcases Italian brands like Natuzzi Italia, Tomasella, Zanette, Calligaris, Miniforms, Gamma, Tonin Casa, Natuzzi Editions, Bonaldo, Kristalia, Adriani & Rossi, and Reflex. Spanish brands such as Schuller, German brand Draenert are also showcased at the Western Furniture Stores in Karama and Sheikh Zayed Road. Western Furniture is the dealer of Natuzzi Italia, the premium brand of the Natuzzi Group with a mono-brand store located on Sheikh Zayed Road, its largest showroom in the world offering stylish and highly sought-after furniture and home furnishing.