Hospitality
Drake-Backed Dave's Hot Chicken Sparks Culinary Excitement with the Grand Opening of its First Store in Saudi Arabia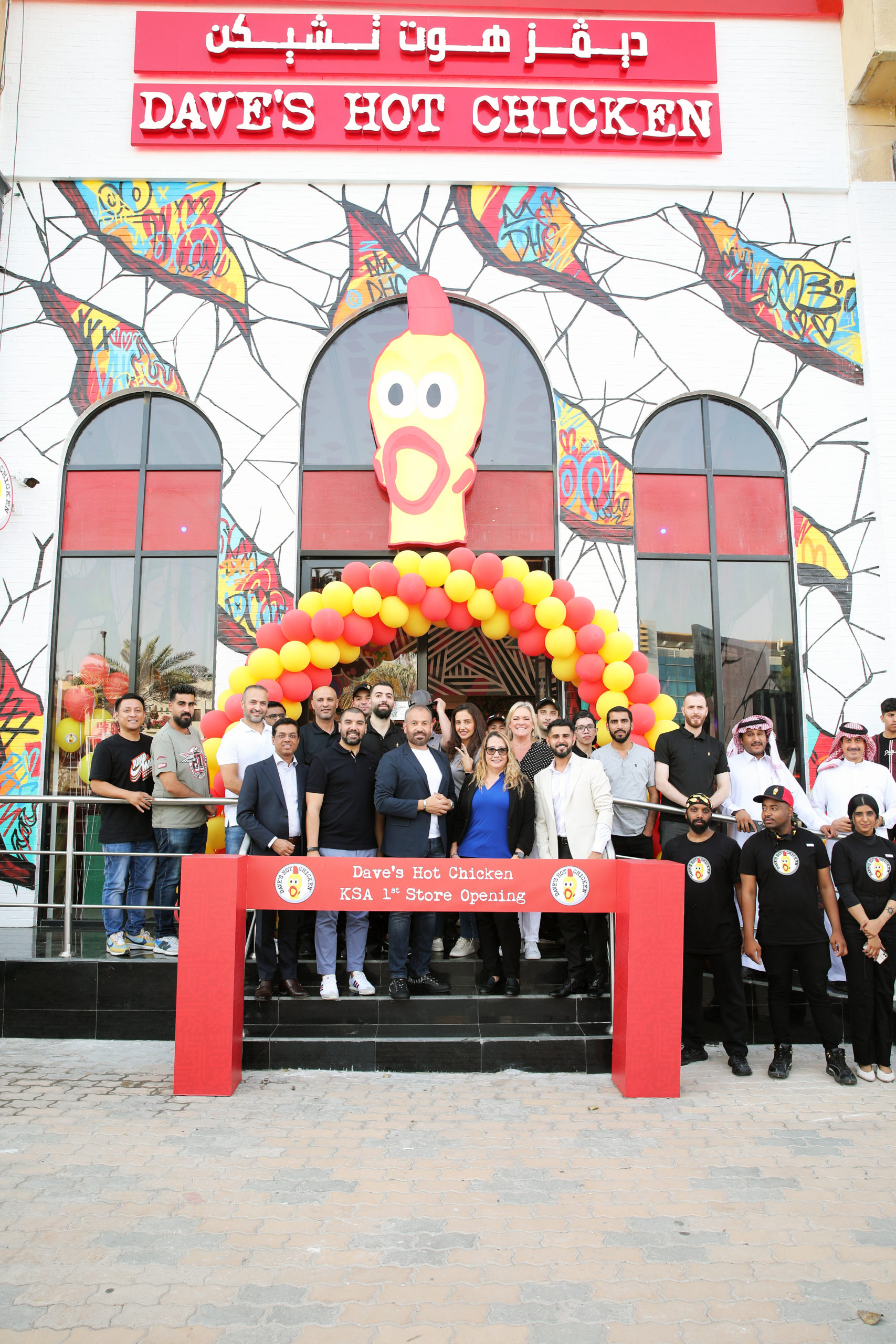 The first store in Riyadh marks the brand's entry into the Saudi Arabian market.
Named #1 on the "Top 100 Movers & Shakers of 2023" list.
Riyadh, Saudi Arabia 20,07,2023: Dave's Hot Chicken, the globally renowned LA-based restaurant backed by Drake, is thrilled to announce the highly anticipated grand opening of its first store in Riyadh, Saudi Arabia. This exciting expansion, took place on the 20th of July, 2023, in Riyadh City's vibrant Tahlia Street, marks a significant milestone for the brand as it enters a new market and continues its remarkable international growth.
Recognized as one of America's fastest-growing restaurants, Dave's Hot Chicken has captivated taste buds worldwide with its irresistible menu offerings. Since its inception, the brand has garnered immense popularity, propelled by its association with Grammy-winning artist Drake, who invested in the restaurant in 2021. The global recognition of Dave's Hot Chicken has led to the sale of over 700 franchise locations across the United States and Canada, with plans to open an additional 60 locations in the coming years.
"We are delighted to introduce Dave's Hot Chicken to the vibrant city of Riyadh," stated Walid Hajj, CEO of Lavoya Restaurant L.L.C., Master Franchisee of Dave's Hot Chicken. "Our expansion into the Middle East reflects our commitment to delivering top-notch culinary experiences to discerning customers. Riyadh's dynamic food scene presents an incredible opportunity, and we are excited to bring our unparalleled flavors and passion for excellence to the esteemed residents of Riyadh."
Led by Lavoya Restaurant – a premium store-front operator focused on fast food outlets, Dave's Hot Chicken has witnessed a tremendous success in Dubai and Qatar, where it broke global sales records within the first week of operation. The brand is excited to replicate its achievement in Riyadh. The Middle East has proven to be an ideal market for quick-service restaurants, with a dynamic culinary heritage and an expanding population of affluent consumers. With the Middle East's fast food and quick-service restaurants market growth, Dave's Hot Chicken is strategically positioned to tap into this thriving market.
The grand opening of Dave's Hot Chicken in Riyadh took place on Thursday, July 20, 2023. The brand is set to tantalize the taste buds of fried chicken enthusiasts with an extraordinary menu tailored to their desires. The menu features beloved classics like Dave's #1 and #2, featuring tenders, sliders, fries, and the secret Dave's sauce. The Hot Box makes its debut, presenting patrons with a choice between 10 jumbo-size sliders or 10 jumbo-size tenders for an indulgent experience. As for spice levels, the 7 options range from No Spice to Reaper®, the latter being a fiery creation crafted from the world's hottest pepper, the Carolina Reaper Pepper. The store's opening hours will be Monday to Sunday, 11:00 AM – 2:00 AM.
Top of Form
For media inquiries, please contact:
Ghalia Sukkar
Account Manager – The Makers Lab
+966 569992034
About Dave's Hot Chicken
In a modern-day American dream story, Arman Oganesyan and best friend Chef Dave Kopushyan, along with brothers Tommy and Gary Rubenyan, launched Dave's Hot Chicken in a parking lot pop-up in 2017. Dave's Hot Chicken quickly took off, opening its first brick-and-mortar restaurant in East Hollywood. In 2019, the team struck a deal with Wetzel's Pretzels co-founder and former CEO, Bill Phelps, and movie producer John Davis to begin franchising the Dave's Hot Chicken concept throughout the U.S. and beyond.  The company has sold the rights to more than 700 franchise locations in the U.S. and Canada and will open an additional 60 locations this year. Harkening back to an Eater LA blog that helped propel early interest in the brand, the company's mission is to "blow their minds." Additional brand investors include Billboard's Artist of the Decade, Drake, former California First Lady Maria Shriver, actor Samuel L. Jackson, and Good Morning America anchor and retired NFL player Michael Strahan.
Instagram: @daveshotchickengcc
Website: https://www.daveshotchicken.com/
About Lavoya:
Established with the purpose of significantly transforming dining experiences, Lavoya introduces new and experiential casual dining concepts to reshape the F&B industry in the region. The company's name and mission, based on their 'Food For Thought' slogan, signifies momentum, optimism and positive experiences. Lavoya was co-founded by Walid Hajj and Fahad Alhokair in 2021. A visionary and award-winning entrepreneur, Walid Hajj has defined his unique imprint in the F&B space creating innovative concepts that have disrupted the industry, establishing his credentials as a pioneer in F&B concepts that integrate advanced technology with exceptional service. Fahad Alhokair is a dynamic and successful Saudi entrepreneur with experience in franchise development, start-ups, operations and investment. He is also the founder of VEDA Holding, a private equity and venture capital firm based in Riyadh that supports more than 15 startups and mature companies in fashion, retail, real-estate and F&B and contributes to their development and innovation by providing value and growth capital.