Hospitality
Travel & Tourism 
Make unforgettable memories with an exclusive long stay experience at Revier Dubai
Book 30 consecutive days with rates starting from AED 5,499 NET and enjoy exclusive benefits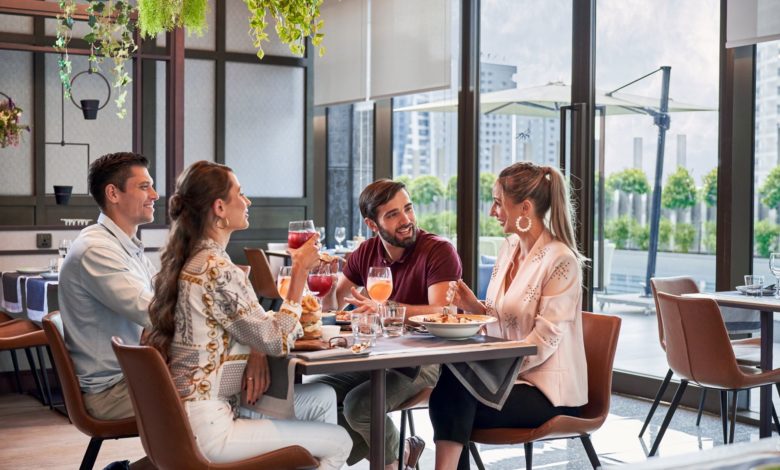 Dubai, UAE – Revier Dubai, a 4-star lifestyle hotel modeled as a meeting point for today's gen-X while offering Swiss Hospitality in Business Bay, offers an idyllic retreat, where unforgettable memories are waiting to be made with friends or families. Guests can stay, or renew their lease for 30 consecutive days, starting from AED 5,499 NET.
Located just in close proximity to the Burj District and The Dubai Mall, the hotel provides the exclusive long stay offer until 30th September 2022. Families, couples, and friends checking in at the Revier Dubai can also enjoy many added benefits, including 25% off on food & beverage and laundry services, room cleaning services twice a week, leisure activities such as free access to the swimming pool and gym, as well as complementary covered parking and access to co-working spaces, while all the utility bills and internet are comprised.
Mickael Chevalier, General Manager at Revier Dubai said: "This summer, we want our present and potential guests alike to experience the true meaning of Swiss hospitality at their own pace, whether it's the thrills of our indoor facilities or the amazing central locations across the city with nearby public transportation, that would ensure the whole family is inspired and entertained. Revier Dubai has something for everyone."
The third floor of Revier Hotel, known as the "Leisure Floor" is where you will find most guests. When the sun comes out to play, guests can relax by the gorgeous 30-meter-long outdoor swimming pool surrounded by lush greenery and high vibes. The floor is also home to the two unique venues, Alphorn Restaurant and Allegra Bar.
Alphorn Restaurant offers a culinary journey around Switzerland. The international menu which highlights Swiss and German signature dishes will tickle your fancy and tantalise your taste buds. Allegra Bar is one of the favourite hotspots in the area that provides a daily happy hour from 5:00 pm to 10:00 pm, and Foxy Ladies Night that takes place every Wednesday and Saturday at the venue.
For inquiries, please call +971 (0)4 5744 7555 or email sales.dubai@revierhotels.com
Terms & Conditions: Long stay offer is valid till 30th September 2022. Price is for Room Only and inclusive of all taxes and exclusive of Tourism Dirham Fees. Other terms & conditions may apply.
Review all offers available at Revier Dubai Hotel and follow the link: https://dubai.revierhotels.com/en/promotions.html
About REVIER Dubai:
Aside from effortlessly blurring the lines between working and playing, the hotel's entire personality and approach are built on 3 essential aspects that continuously drive its success. Revier's authenticity revolves around its unique Swiss heritage, which is very much at the forefront of the design and the strategy. What makes REVIER different is a traditional Swiss cow in the lobby, the contactless check-in and keyless room entry, and the "Leisure Floor" with everything the guests need for a great time. Honest and pure, just like the Swiss do it. As a future-ready brand, Revier pushes the boundaries of the unconventional, while ticking all the boxes when it comes to high-quality service and efficiency. Nothing is over-the-top, simply what is necessary with a flexible layout allowing guests to switch from one state of mind to the other. A Swiss expertise and intuition, pushing for originality and simplicity in a space where working, playing and relaxing coexist – a city retreat like no other and a meeting point for the tireless travellers who can enjoy Swiss signature dishes, an outdoor swimming pool and all the tech-savvy amenities Revier has to offer.
About REVIER Hospitality Group AG:
The REVIER Hospitality Group has built two very distinct brands: REVIER Hotels and the PRIVÀ Lodge & Living Concept. As a subsidiary of the Swiss real estate developer Fortimo Group Ltd, it is fully owned and managed by the families of Philipp and Remo Bienz. Following a Swiss vision and expertise, REVIER has demarcated itself by creating a unique idea that revolves around providing their valued guests with outstanding service based on the essentials – nothing too complicated, just authentically simple and of high-quality. The group is on its way to expand to new horizons after launching their first property in Lenzerheide in 2017 – a ski station in winter and a bike destination in summer. In 2020, the second property in Adelboden was launched – another renown resort located in a beautiful mountain zone in Switzerland, all based on the same concepts: simple rooms, stunning views and a varied, delicious menu. The time will come to eventually launch the first "city" hotel in Schaffhausen, a very traditional and historic town in the north of Switzerland that will offer a unique spectacle and views of the famous "Rheinfall". The first property based abroad – besides Dubai – will be in the ski region of Montafon in Austria. Overall, REVIER can be condensed in a few essential aspects – a young and dynamic symbiosis that merges classic accommodation and optimised working processes with a real and honest design. Everything is practical, simple, comfortable and sustainable.