Hospitality
SAY HELLO TO SUGARGRAM'S VALENTINE LINEUP!
Dubai, UAE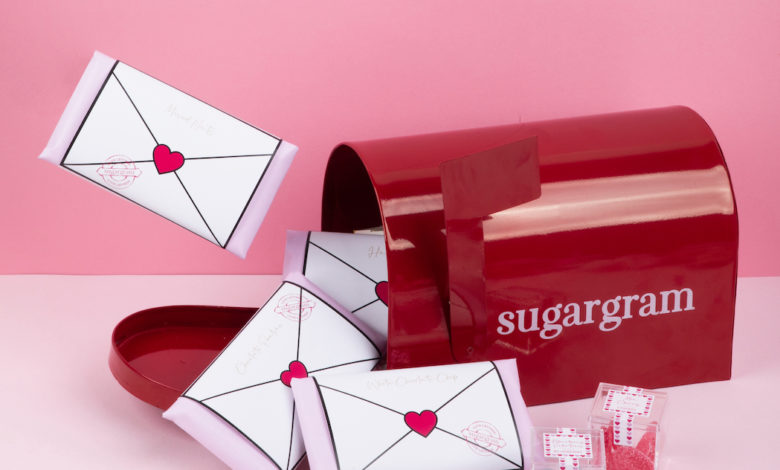 Say hello to itty bitty cupcake city's latest launch "Love Letters by Sugargram" – The perfect Valentines treat for anyone you love (including yourself). This limited-edition Valentines special by Sugargram introduces a brilliant mailbox curated with chocolates and candy that will make the perfect Valentine's Day present this year.
The Sugargram Mailbox is a classic postbox that has the best kind of mail – chocolate! This bean to bar chocolate has been prepared locally and the delicious, handcrafted chocolates include 7 different flavours including Almond Dark Chocolate, White Chocolate Chip, Mixed Nuts, Salted Caramel, Hazelnut, Milk Chocolate, and Chocolate Praline. The letter box also has a couple boxes of gummies in cherry & blueberry to add a sour kick to the festivities!
Since the art of letter writing is where true romance begins, each chocolate bar comes with its own love letter inspired by RomComs from the 90s! Each box of 7 chocolates & 2 candy cubes is priced at AED 185 and is available for pre-order before Valentines!
Also, Sugargram is releasing special Valentine's Day packaging for its box of 25 tiny cupcakes. For anyone who has lost their way in love, each box has a pink heart shaped maze with the message "You are a-maze-ing!" underneath.
The sweet delights of Valentine's Day aren't over yet, because Sugargram's newly launched flavour of the month is here, and you don't want to miss it. The Fluffy Lumpkins cupcake looks as cute as it sounds. Topped with a marshmallow fluff and sprinkled with little sweet edible hearts, this bite sized cupcake will just melt your heart.
Nothing screams "be mine" like a (TIN)y cake that literally says Be Mine and Sugargram will give you just that. Crack into a thick shell of chocolate to uncover moist layers of pure red velvet bliss. Priced at AED 55, the (TIN)y cake is the most adorable gift to send to the special someone that you've been secretly crushing on.
Nothing says "I love you" like sending little sweet treats to your loved ones and that is what makes Sugargram's limited-edition Valentine's collection the ideal gifts. Whether you're sending these to your soulmate, best friend, secret crush or even for yourself, have no doubt that your love will be celebrated in the sweetest way possible.
About Sugargram:
Fresh out the oven, Sugargram is a dessert gifting concept bringing bite size cupcakes right to your doorstep across Dubai. With a range of flavours on the menu like Red Velvet, Chocolate, Oreo and Lotus amongst others, Sugargram aims to create 'the perfect premium gifting option' for sweet lovers! All the bite size cupcakes are locally made fresh daily and the boxes can be personalized upon request.